This post may have affiliate links, which means I may receive commissions if you choose to purchase through links I provide (at no extra cost to you). Please see my full disclosure policy for details.

HOW TO BUDGET MONTHLY BILLS WITH BIWEEKLY PAY
Do you get paid bi weekly? Creating a biweekly budget doesn't have to be much different or really any more difficult than any other type of budget. Your budget is about planning how to spend your money– regardless of your pay period.
What makes budgeting every-other-week paychecks a little special is that the bi weekly pay period dates change from month to month.
Let's check out what you need to be successful with your new budget!
What does biweekly and semi monthly income mean?
First, let's start with some clarification about how you are getting paid.
Semi monthly means getting paid twice a month– usually on the 1st and the 15th. The definition of bi weekly pay is getting paid every other week.
After many years of getting paid semi-monthly, on the 1st and 15th of every month, I recently started a new job that pays me bi weekly. I didn't realize it at the time, but bi weekly pay forced me to learn a whole new way to budget. Some months I'm getting paid twice, others three times. Not always the same weeks.
All that change had me scratching my head like, whaaaaaaat?
How does biweekly pay work?
Since bi weekly pay happens every other week, that means you are getting paid twenty-six times a year.
Occasionally, depending on how the calendar falls, it can be twenty-seven, but for planning purposes– twenty-six.
That means twice a year you will be getting an extra pay check. We'll talk more about what to do with these paychecks later in the article.
How Do I Manage Monthly Bills When I Get Paid BiWeekly?
Monthly Budget Categories
Getting paid once a month, twice a month, every week—it doesn't matter. You need to know where your money is going.
Groceries. Utilities. Mortgage/Rent. Gas. Insurance. Car Payment. Cell Phone. Internet. Haircuts. Clothing. Gym. Debt Payments.
Once you know what money you need you will be in great shape to get yourself and your money organized to rock your month!
I've recently set up a resource library with all of my budget templates and printables!
Drop your email below if you want to receive your very own bi weekly budget template like the one pictured.
A super simple spreadsheet to track your bi weekly pay and give yourself a year-long overview. Super helpful when making sure you are staying on track with your plan and goals!
If Google is more your thing– there is bi weekly budget template Google Sheets I offer from the budgeting workbook I designed,  Dollars that Make Sen$e, specifically for biweekly budgeters. 
The Google Sheet template includes a year long over view so you can track your progress, a month by month budget and a bill tracker to keep yourself organized!
How to Organize Paying BIlls
Google Calendar is a fantastic free tool to help keep your finances organized and on track.
I use it daily to help me stay on top of the rest of my daily life and budgeting is no exception.
Part of it is that the visualization really helps me understand what's happening in each month, but also the bonus of getting the email reminders so I don't forget due dates and how I've allocated funds in my budget.
The first step to organize paying bills is to schedule out the rest of your paychecks for the rest of the year.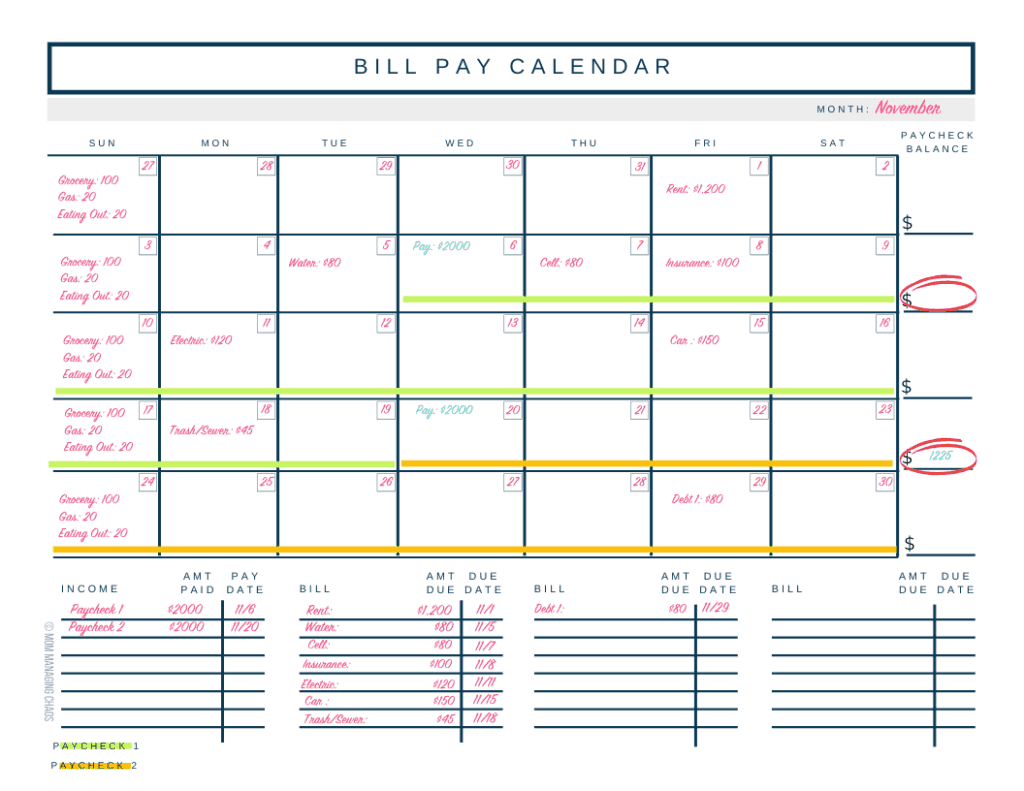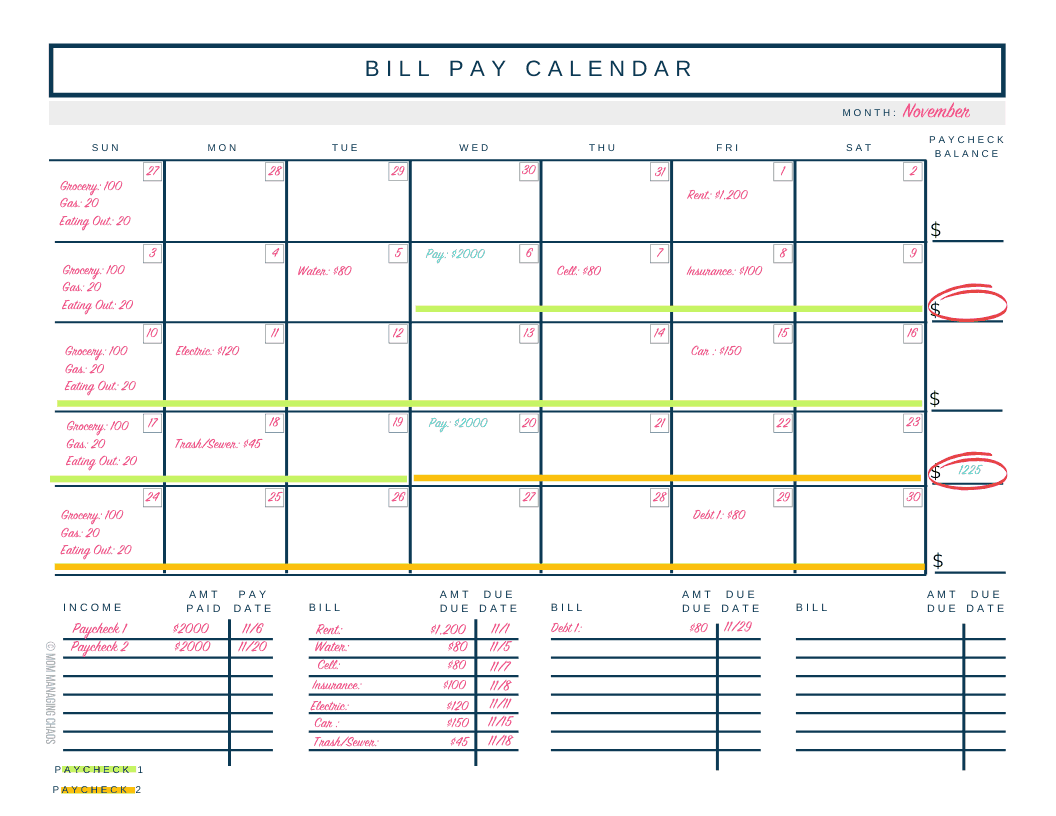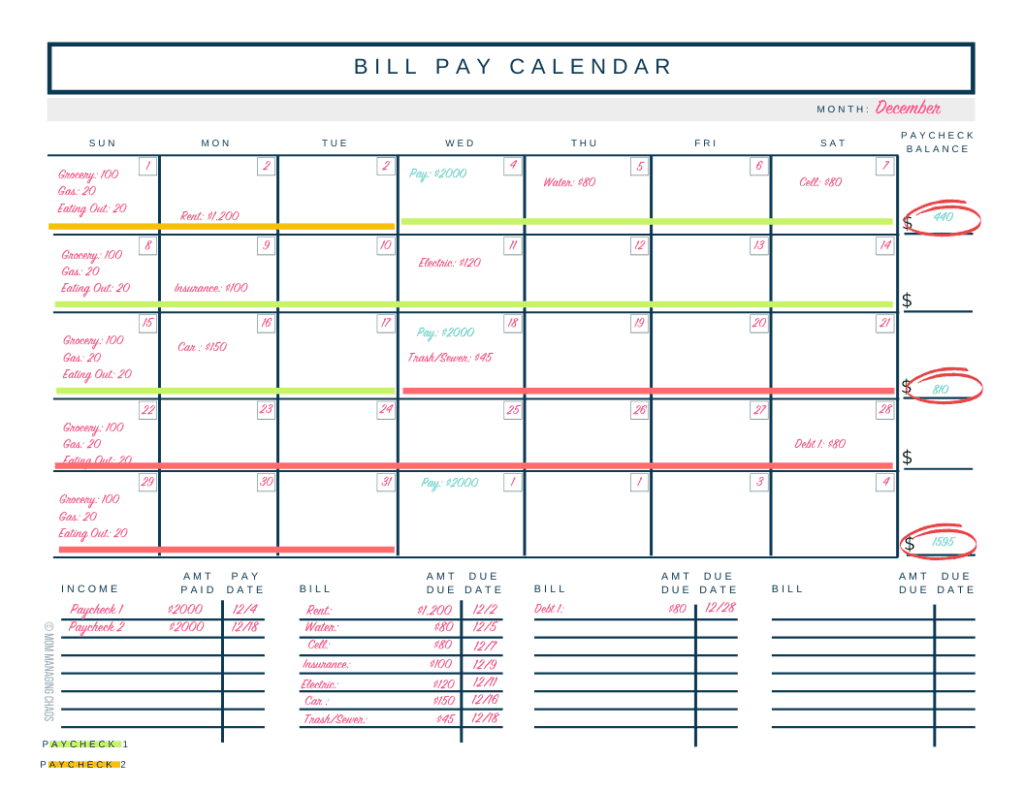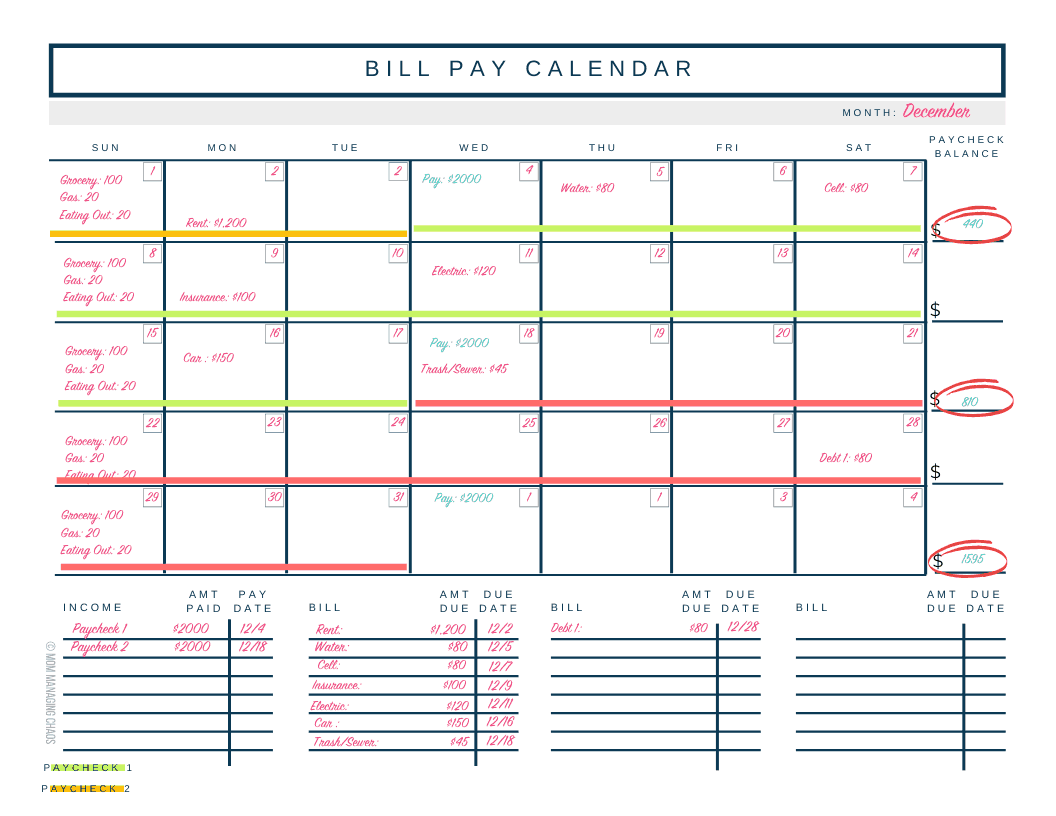 Add all regularly occurring expenses to the calendar
Next, reference your budget and add your bills to the calendar.
I'm a big fan of knowing my weekly budget for things like gas and groceries (discretionary spending), so if that is something that would be helpful to you, you can add those to the beginning of every week to help you account for your monthly spending.
Again, you want to be able to see what is due, when it's due so you can then decide when and how you are going to pay it.
For large dollar items, like rent or your mortgage, you can split them into payments. For example, if rent is $1200, you can split it into payments of $600. This really depends on what other expenses you have and how much flexibility you have to put aside the first half of the payment to start.
A good time to start if you are living on a super tight budget might be to use the occasional 3rd paycheck in a month.
Note: A bonus to scheduling this, is you get to plan ahead if there are one time expenses you need to budget. Example: birthday's, Yearly car inspection, holiday spending, etc. No need to last-minute scramble for money to cover those expenses.
It's far easier to put an extra $7/month away for a few months than to all the sudden have to come up with $100 because of poor planning.
Create Separate Checking Accounts for Your Money
Once you've organized your expenses, I highly recommend you open a separate checking account just for your bills and a checking account for the rest of your spending money (discretionary spending).
Your income happens at different times every month making it a challenge to accurately plan ahead for future bills.
Having a separate checking account for your fixed and variable expenses ensures that you have a place to:
Hold money for future payments. This is helpful especially if you like to split payments between paychecks for larger expenses like rent to your mortgage.
You don't accidentally spend money that you had set aside for bills– keeping you on track.
Another option for holding future payments (also called sinking funds) is to set up separate savings accounts.
Ally Bank and Capital One 360 are both places I use to build my savings and keep my sinking funds organized. You can create multiple accounts for each sinking fund and at the time of this writing they offer a little higher than average savings rate.
The goal of these extra accounts is to give better visibility over how you've earmarked your money and to avoid you have to rely on credit cards to bail you out due to issues with tracking your money.
I've organized my Income and Expenses- Now what?
Save a Month's worth of expenses
A goal of mine is to save up enough money for a month's worth of expenses. I can't imagine too many things more stressful than living paycheck to paycheck. Getting a month ahead helps to alleviate the stress for a few reasons.
First, you won't be getting paid on the same day of the month every month, but typically bills are due at the same time every month.  So, if you are a month ahead, you will always have the money ready to pay bills as they are due regardless if you are getting paid during the first or second week of the month.
You have the flexibility to pay when it best works for you and the due date versus being forced into a certain window because of your ever-changing pay date.
Second, peace of mind. If anything unexpected pops up you have time to adjust for that change.
A word of caution– this is not a free for all pot of money. The purpose of this fund is to maximize your flexibility in paying bills. This is also not an emergency fund.
Check yourself, before you wreck yourself!
When you are planning to get a month ahead. You don't necessarily need to save a months worth of salary– you just need to save enough to cover your necessary expenses.
The point is to have the money to cover next months bills.
I have a baseline budget that consists of just what I need to get by. It doesn't include entertainment or eating. It doesn't include any money that I don't absolutely need.
You want to make sure you have the money for rent, utilities, cell phone, etc. Anything above necessities is a luxury and those are things you could forgo if the money wasn't there.
Getting a month ahead of bills
If you are on a super tight budget there are tons of options to help yourself get ahead.
Temporarily cut back on other discretionary spending.
Pick up a side hustle: dog walking, lyft, babysitting, mother's helper, etc.
Sell stuff. Check out Ebay, Craigslist, FB Marketplace, or hold your own garage sale.
Online surveys. Some of my favorite are Swagbucks, Survey Junkie, and Inbox Dollars.
What to do with your 2 extra biweekly paychecks during the year?
As I mentioned above twice a year you will get an extra payment.
In 2019, depending on how your pay schedule falls, this will likely happen in March and August– though you'll know for sure when you've scheduled out all of your pay in your Calendar. (*hint, hint* *nudge, nudge*)
Here is a list of a few ways you could use those paychecks to get ahead in your financial goals:
Pay down debt
Save up to get a month ahead for expenses.
Put money away for retirement.
Add extra to your sinking funds: new car, vacation, home/auto maintenance, etc.
Pay an insurance policy (auto, home, life)
Grow your emergency fund
Pay/plan ahead for irregular expenses.
Pitfalls with Budgeting Biweekly paychecks
There are a few areas you need to be cognizant of when budgeting your bi-weekly pay.
The Two Extra Paychecks. As I mentioned above, your occasional third paycheck isn't intended to be a free for all, so much as a potential windfall to help you get ahead. Don't squander the opportunity.
Failing to plan for the month. You need to be diligent about laying out your whole month, so you don't run out between payday. This is why I strongly recommend using a calendar to really visualize where and when money needs to be spent.
How do you budget bi weekly? Any tips or hacks to share? I'd love to hear from you, please comment down below.